Solution
Help employees love work. Fix their IT problems instantly.
Employees expect instant help, whenever or wherever they ask. When they can't find what they need, they call the help desk. Nobody likes being treated like a number. Today, the best organizations use intelligent automation to deliver instant answers. It's time to stop wasting employee time. Deliver the experience they deserve.
Modern support experiences start with PeopleReign, the conversational AI system of intelligence employees – and help desk agents – love.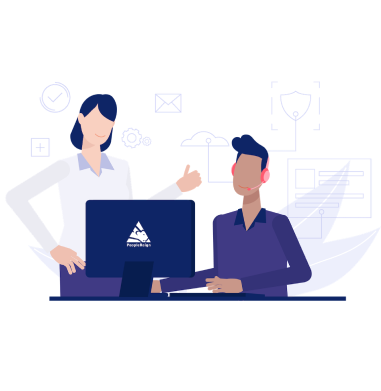 How can you use PeopleReign?

Automate the IT ticket lifecycle
PeopleReign automates every part of the IT ticket lifecycle.

Fix account issues
Use AI to instantly diagnose and fix account issues, whether their passwords are expired or they are locked out.

Put your employee at the center

Answer complex IT questions

Solve complex IT issues

Day one Smart

Provide omnichannel support — any time, anywhere
Personalized 24/7 self-service support that speaks 27 languages enables users to get answers in seconds on any channel or device.

Keep employees updated
Thanks to PeopleReign's holistic understanding of each user, employees always know the status of open issues. Agents fix more issues faster with smart recommendations and auto-routing.

Passionate about customer success
Only PeopleReign guarantees customer success. Our three-phase AI success plan delivers up to 85% reduced cost per ticket, 65% reduced ticket volume, 40% reduced MTTR, and 55% increased first-call resolution.

Integration everywhere
PeopleReign's system of intelligence is deeply integrated with common IT systems like ServiceNow, Jira, Slack, and Teams.

Personalized help now
Give your employees exactly what they need, the moment they ask for it. Let PeopleReign deliver a customized experience that is guaranteed to improve KPIs within 30 days.
Ask yourself these questions to see if PeopleReign is right for your organization?
Do you want solutions to problems or just a chatty bot?

Do you want contextual recommendations for live agents if the virtual agent isn't sufficient?

Do you want predictive analytics for your service owners to prevent future issues from occurring?

Do you want to deliver a better employee experience while reducing call volume and cost per ticket?