Solution
Help employees love work. Fix their HR problems instantly.
Employees expect instant help, whenever or wherever they ask. And when they can't find what they need, they email or call the help desk. Employees hate being treated like a number. Help them resolve HR issues instantly with intelligent automation. Help them feel trusted, valued, and respected. Enter the post-ticket world with PeopleReign, the SaaS platform that automates HR service.
Give employees back an hour a day to do more of what they love. Inspire them to be better humans. They'll be more productive and more motivated. This is the future of work.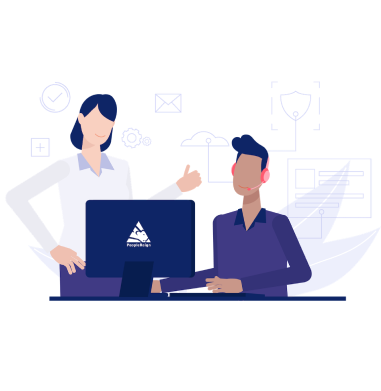 How can you use PeopleReign?

Automate the IT ticket lifecycle
PeopleReign automates every part of the IT ticket lifecycle.

Support at scale in 27 languages
Let PeopleReign empower a global workforce from day one with 27 languages out of the box.

Put your employee at the center

Answer HR questions

Solve complex HR issues

Day one Smart

Provide omnichannel support — any time, anywhere
Personalized 24/7 self-service support that speaks 27 languages enables users to find accurate resolutions to queries in seconds on any channel or device.

Keep employees updated
Thanks to PeopleReign's holistic understanding of each employee, everyone always knows the current status of issues. Live agents deliver higher quality service when routine issues are auto-resolved.

Passionate about customer success
Only PeopleReign guarantees customer success. Our three-phase AI success plan delivers up to 85% reduced cost per ticket, 65% reduced ticket volume, 40% reduced MTTR, and 55% increased first-call resolution.

Integration everywhere
PeopleReign's system of intelligence is deeply integrated with common HR systems like Workday and ServiceNow plus systems of collaboration like Slack and Teams.

Personalized help now
Give your employees exactly what they need, the moment they ask for it. Let PeopleReign deliver a customized experience from day one.
Ask yourself these questions to see if PeopleReign is right for your organization?
Do you want solutions to problems or just a chatty bot?

Do you want contextual recommendations for live agents if the virtual agent isn't sufficient?

Do you want predictive analytics for your service owners to prevent future issues from occurring?

Do you want to deliver a better employee experience while reducing call volume and cost per ticket?